0
Product information
Venetian Blinds offers flexible light control, available in aluminum, wood or a combination of both. Choose between 16, 25, 35, 50 and 70 mm slats, depending on window size and the impression you would like to make.
High quality priority
The aluminum slats are made of high-quality recycled (up to 98%) and corrosion-resistant aluminum. The glaze finish protects the slats against scratches, discoloration and corrosion. Ensuring that your Venetian Blinds always look their best, our unique bounce back feature allows the slats to spring back into shape when touched.
Color options
The Venetian Blind collection is modern and versatile. Available in a wide range of colours and prints, inspiring natural hues, beautiful metallic designs, matt and glossy finishes.
Different models
With Venetian Blinds you have complete light control. Options such as VarioFlex® allows a combination of open and closed slats. With MegaView® an extra amount of daylight gets through, along with a view double the size. Other innovative solutions within the Luxaflex® range are Elipse and Top Down/Bottom Up.
Further down the page you find a complete model overview under Downloads.
Information about Wood Blinds is found under Exclusive products.
Options
Some of the preferred operation options for Luxaflex® Venetian Blinds are:
LiteRise®
A cordless, stylish and child safe alternative. Raise the blinds with the small handle on the rail, pull it down to lower and simply tilt to open or close the slats. Thanks to the patented design, your Venetian Blinds stay in place, regardless of their position.
Motorized blinds
Perfect for windows at inconvenient position or when central control is preferred. Adjusts more than one Venetian Blind at the time, if preferred. Available with timer and light/temperature sensor.
Read more about automated shades and compatible control systems >
Child Safety
Luxaflex® is committed to adhering to the European EN 13120 standard (Internal Blinds Performance Requirements incl. safety) as a minimum safety requirement. We are continuously developing new products to help reduce the risk of accidents. All our innovative lifting systems – including cordless and motorized options – are designed to offer the ultimate in safety and convenience.
A designed option
Choose decorative woven tapes in the same colour as the slats, or make it a contrasting finish. Both options take your design to the next level.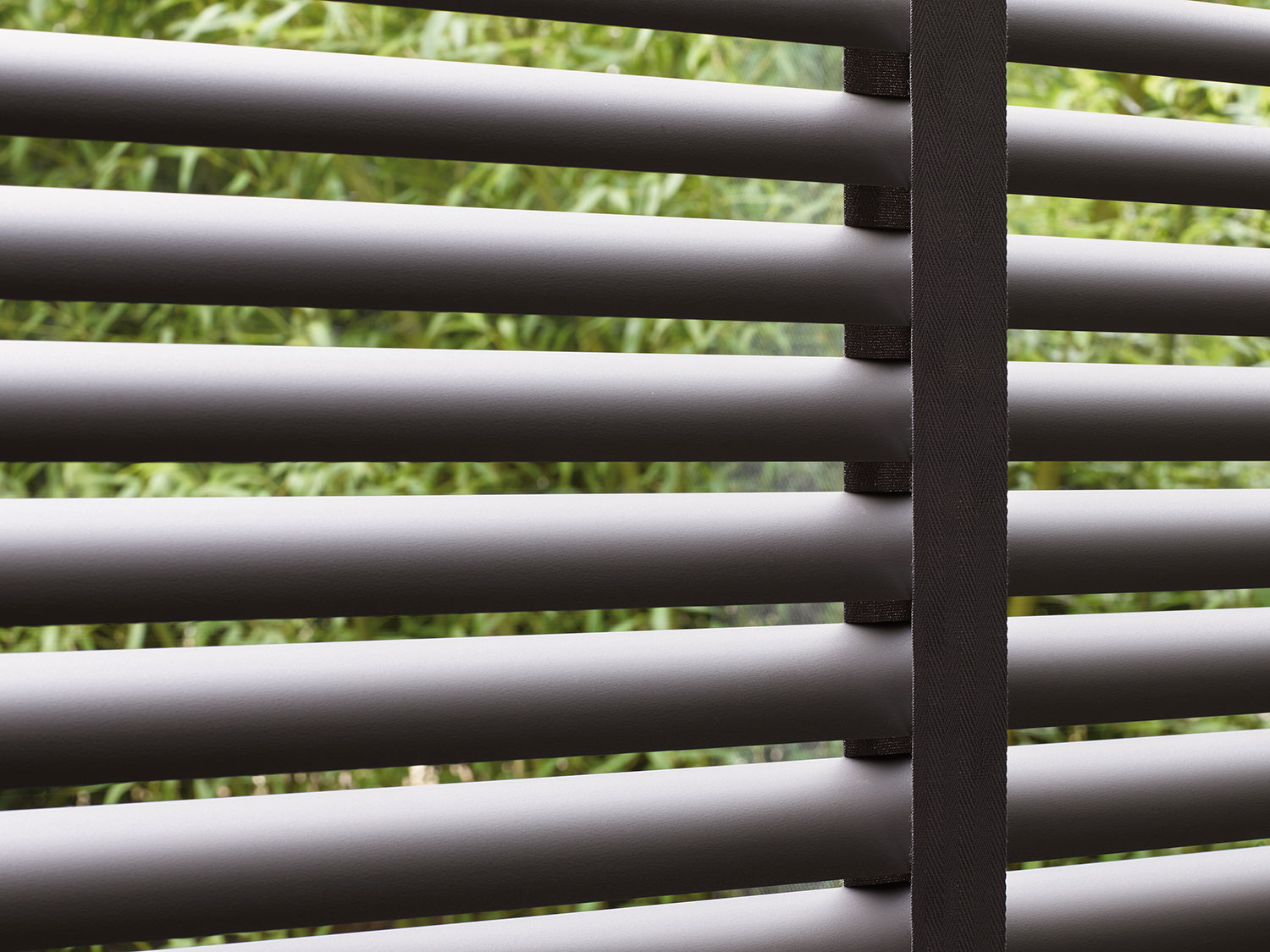 Contact us
We are here to help! Feel free to contact us regarding product questions, analysis of your needs and functional requirements, energy simulations, customized product drawings, fabric samples and technical specifications.
Characteristics
Flexible light regulation
Privacy with a view
Sustainable solutions
Made to measure
Do you need more information about Venetian Blind?
High quality fabrics with powerful effect
Light and heat control, thermal comfort and sustainable fabrics.
The right product, with the right functional fabric, can improve the indoor climate in a whole building."
When choosing fabric, make sure you have all the information needed.
Read more