0
Product information
Luxaflex® made to measure Vertical Blinds ensure optimal light regulation and privacy in every room and window. Our collection offers a wide selection of transparencies, widths and fabrics. Vertical Blinds are practical and functional, suitable for larger windows and sliding doors, or as a room divider.
To achieve the optimal solution for your window, we offer three widths: 63, 89 and 127 mm. The hardware is available in white, aluminum and black.
Special window shapes and different models
Luxaflex® Vertical Blinds fits not only larger windows, but also windows with special shapes – Angles, Trapezoids, Bay and Corner windows, to name a few.
Further down the page you find a complete model overview under Downloads.
Fabric collection
Within the collection you will find different types of fabrics with unique characteristics, suitable for different solutions and situations. The collection include fabrics handeling heat reduction, light reflection, energy efficience, room darkening and transparency in the most efficient way.
Our fabrics are Oeko-tex and Greenguard certified. Within the collection you will also find flame retardant fabrics and fabrics suitable for humid environment.
Read more about our different sustainable certificates >
Screen
Common to all Screen fabrics is that you maintain the outside view, while reducing heat and preventing glare. Within the selection of Screen fabrics you can choose among different openess factors, in order to meet the requirements you might have. Some fabrics have metallized back side, which helps reducing heat and prevent glare. The collection also includes the energy efficient Verosol fabrics where all have high efficient metallized back side.

Options
Some of the preferred operation options for Luxaflex® Vertical Blinds are:
Chain operation
Endless chain in either white, grey, black or anthracite gray.
Wand operation
The wand operation slide the Vertical Blinds back and forth, and tilt them in position. A clean look with one easy operation.
Motorized blinds
Perfect for windows at an inconvenient position or when central control is preferred. Adjusts more than one Vertical Blind at the time, if preferred. Available with timer and light/temperature sensor.
Read more about automated shades and compatible control systems >
Child Safety
Luxaflex® is committed to adhering to the European EN 13120 standard (Internal Blinds Performance Requirements incl. safety) as a minimum safety requirement. We are continuously developing new products to help reduce the risk of accidents. All our innovative lifting systems – including cordless and motorized options – are designed to offer the ultimate in safety and convenience.
A designed option
Choose traditional bottom weights together with bottom chains, to keep the Vertical Blinds in place, or go for the designed option with hidden and welded bottom weights.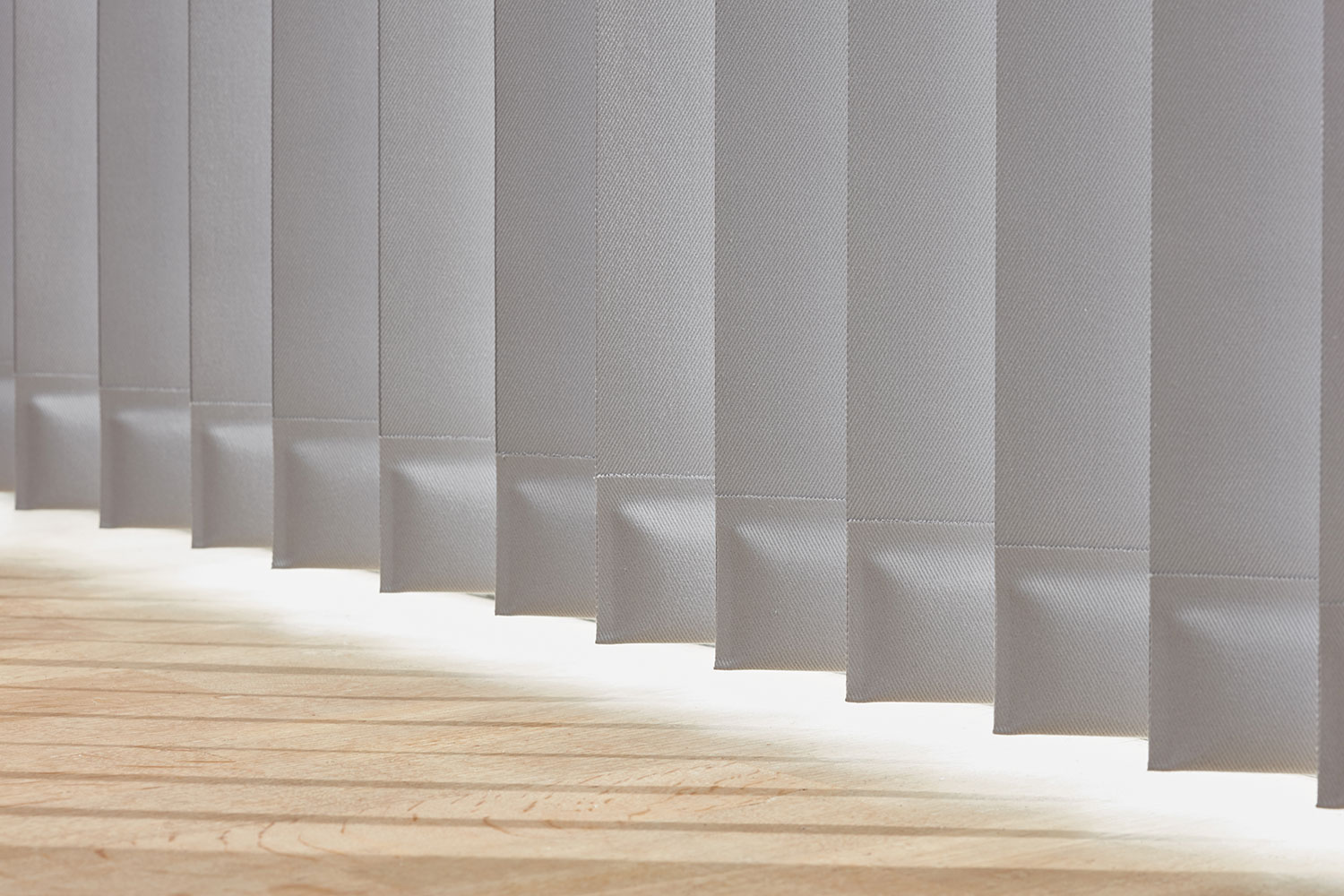 Contact us
We are here to help! Feel free to contact us regarding product questions, analysis of your needs and functional requirements, energy simulations, customized product drawings, fabric samples and technical specifications.
Spectral data
Spectral data is available on some fabrics in the Vertical blind collection. Contact us for more information.
Characteristics
Flexible light regulation and privacy
Suitable for larger windows and doors
All

transparencies

; from Screen to Room Darkening
Sustainable & Energy efficient solutions
Do you need more information about Vertical Blinds?
High quality fabrics with powerful effect
Light and heat control, thermal comfort and sustainable fabrics.
The right product, with the right functional fabric, can improve the indoor climate in a whole building."
When choosing fabric, make sure you have all the information needed.
Read more